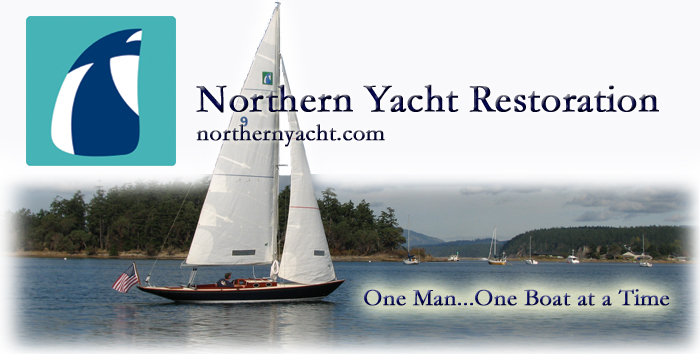 110 Cookson Lane | Whitefield, ME 04353 | 207-232-7600 | tim@lackeysailing.com
Home
| Contact Lackey Sailing |
Conversion Projects
|
Project Logs
|
Tim's Projects
|
Flotsam



Ensign #1212

| Friday, May 16, 2014

With the new tabbing now cured, I followed my usual pattern of water wash followed by a light sanding to remove sharp edges and prepare the areas for later steps.

After vacuuming the entire boat, and an initial solvent wash, I began final preparations before high-build primer. I planned to apply the primer to both deck and hull in a single session. Beginning on deck, I masked over various openings, and covered the bulkhead and cockpit with paper against overspray.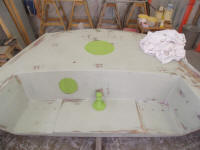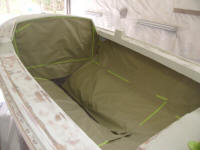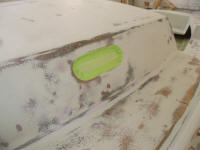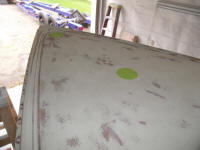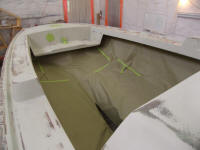 Starting just below the waterline I'd masked off earlier, I wrapped the entire trailer in plastic to protect it from overspray. Afterwards, I set up staging at deck height, rinsed the floor and staging, prepared paint and spray equipment for the job, and finished up with a final solvent wash on both hull and deck, using the paint system's proprietary solvent for that purpose.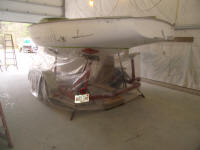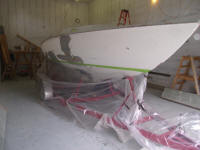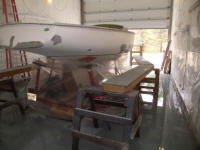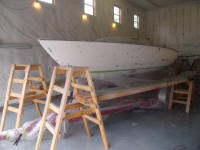 Total Time Billed on This Job Today: 5.25 Hours