1975 Dufour 27 Refit | Friday, October 24, 2008

I began this morning by transferring the waterline marks back up to the hull, after which I taped off the waterline (top edge of the bottom paint, technically). Then, I installed masking paper beneath the line.

Next, I had to address the staging. I hoped to raise the staging enough to allow me to reach most of the deck areas from the staging, which would be critical during the painting stages, particularly topcoats. The deep cockpit meant that I'd have to do some of the painting from inside the boat regardless, but for weeks I'd been working out how I'd spray the remaining parts of the deck effectively. Though I'd raised the staging early in the project, it wasn't high enough to comfortably allow work on the sidedecks.

I raised the platform along the sidedecks and foredeck by over a foot by adding blocks and additional planks, which I screwed in place and further secured with ratchet straps. I also added some cross bracing, as the new level was getting rather high. However, now I could reach the sidedecks and raised center portion of the main deck, which would greatly streamline the primer and additional sanding steps.

At this point, I had to make a change to my original plans. I had expected to do all the high-build primer in one day--deck and hull--but it was clear that the new staging was far too complicated to consider breaking down and lowering for the task, and far too high to allow me to spray the hull without lowering it. So instead, I decided to concentrate on the decks and work through both primers and topcoat before changing the staging to focus on the hull.

With this in mind, I masked off the hull for protection during the deck spraying ahead. I masked off just below the deck edge, even with the lower edge of the deck laminate, and then covered the hull with plastic beneath this point. Then, I applied masking paper at the top edge so that I wouldn't have any problems with overspray flaking off the plastic during additional preparation and painting steps.

Then, I solvent-washed the decks with clean rags and Alexseal wipe down solvent and washed down the staging planks and shop floor to remove any remaining dust and dirt. I wrapped up the day's preparations by gathering the priming materials and equipment I'd need for Monday's high-build primer.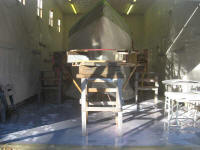 Total Billable Time on This Job Today: 6.75 hours