Circe | Wednesday, February 24, 2010

It was another day dedicated mainly to trim and details. After lightly sanding the 14 cabinet doors and small trim bits from yesterday--to prepare them for more varnish later in the day--I returned to the woodshop to mill additional trim pieces.

There were a number of outside corners requiring trim to cover raw plywood edges where interior panels met, in addition to exposed plywood end grain around the stove enclosure. Using square blanks that I'd cut earlier, I milled several pieces of rounded U-shaped channel to fit around the stove enclosure, and additional L-shaped corner moldings as needed. After sanding the new trim pieces smooth, I applied a coat of varnish.

Portions of the interior required additional varnish to complete, so I sanded various panels in the head and galley to prepare them for varnish. With plenty of work to keep me occupied off the boat during the remainder of the day, I pressed on and applied a coat of satin finish varnish to the newly-sanded areas of the interior.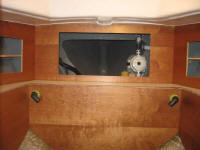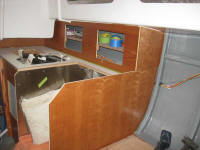 Afterwards, I continued with the trim varnish, and applied a second coat to all the cabinet doors and small trim bits; the new galley trim pieces had dried enough to allow me to apply a second coat to them as well.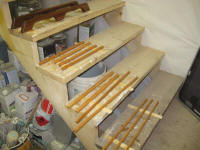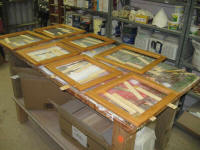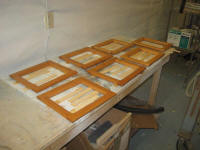 The last bits of interior trim required (other than the cherry ceiling/hull liner and cabin sole) were around the engine box, which I'd address presently. First, however, I needed to install Formica on the engine box top/countertop, so I did. I set this aside till I was ready to address the trim.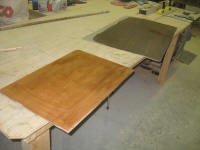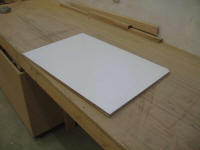 Next on the agenda was the companionway trim, interior and exterior. To begin, I worked on the bottom piece of trim. Using the old trim roughly as a guide, but making a few minor changes to improve appearance, I milled a new blank from Honduras mahogany. The remaining trim would all build off this one piece. This brought me to the end of the day.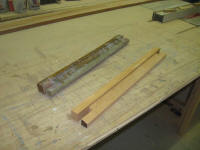 Total Time Billed on This Job Today: 8.25 hours