Circe | Wednesday, December 23, 2009

It was a short work day, but in the time I had I worked on and finished construction of the settee fiddles for the main cabin.

Because of the removable double berth conversion, the fiddle needed to be in two sections on each side, to allow a section to be removed for sleeping comfort in the double berth. To begin, I milled sections of cherry for the after, fixed portions of the fiddles: a long-ish section on the starboard side, and a very short piece to port. The fiddles ended up 4" wide overall, with 2" above the settee surface and 2" below, which corresponded with the lower edge of the filler piece support cleats.

I milled a rabbet on the inside of the fiddles to allow them to overlap the top of the settee by an amount equal to the thickness of the engine box (1/2"), and cut the blanks to length according to the space available on each side. Later, I'd modify the engine box cover to allow it to fit around the fiddle.

The forward sections of each fiddle would be removable and needed a somewhat different size profile to fit in the allotted space. I milled pieces of cherry to match the overall appearance of the fixed sections, but modified the bottom edge so that the fiddles would fit over the fixed support cleats beneath. To secure the removable sections, I planned to use dowels or metal rods in the lower edges, which would fit into corresponding receptacles in the settee top; I'd get to that installation in the near future.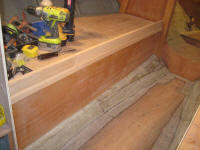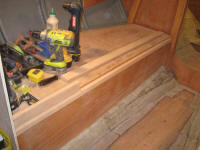 To round out the fiddle construction, I milled small trim pieces for the lower edge of the static fiddles, which would match the profile of the support cleats in the forward area for a more seamless appearance. I milled rounded edges on the top corners of all the pieces, and elsewhere as needed, then sanded the wood smooth to prepare it for varnish. First, though, I had to glue the slim trim pieces on to the static fiddle pieces, which brought me to the end of the morning's work. Once I had a chance to apply a sealer coat of varnish to the pieces, I'd permanently install them in the boat, plug the fastener holes, and proceed with additional varnish along with the remainder of the interior as it occurred.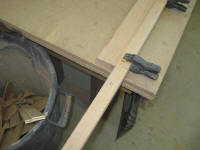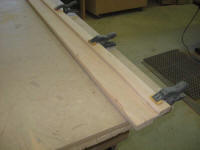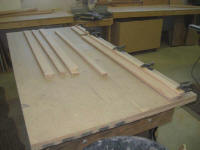 Total Time Billed on This Job Today: 3.5 hours