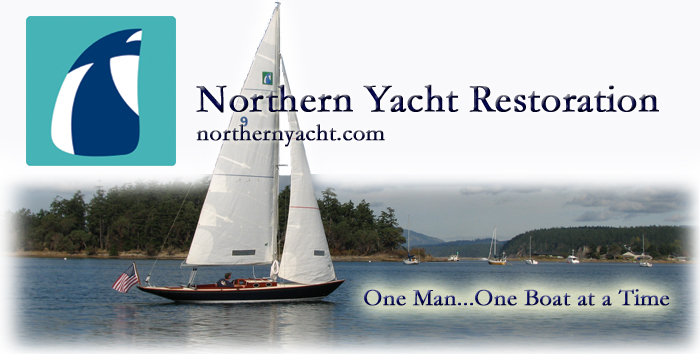 110 Cookson Lane | Whitefield, ME 04353 | 207-232-7600 | tim@lackeysailing.com
Home
| Contact Lackey Sailing |
Conversion Projects
|
Project Logs
|
Tim's Projects
|
Flotsam

Ashantee | Wednesday, March 18, 2015

Some weeks earlier, before starting the high-build primer, I'd marked and restruck the waterline, or top of the bottom paint. Now, with finish primer on the entire topsides, it was time to strike and mark the top edge of the boottop.

I set up my horizontal beams at stem and stern, setting them 3" above the existing waterline, equal to the final visual height of the new boottop. Then, in my usual way, with a weighted string led between the forward and after level beams, I marked the new top edge of the boottop on each side of the boat.

Afterwards, I masked off below the series of tick marks I'd made, demarking the new top edge of the boottop.

At the bow, I made a new mark one visual inch above the top of the initial horizontal tape line, then, by eye, sheered the top of the stripe, starting from a point about 10' aft along the waterline. Simply put, this minor sheer in the bow sections would just look right when all was said and done, though it was minimal enough to not appear obviously curved.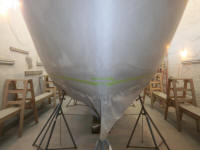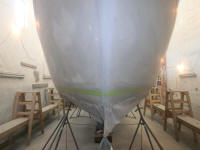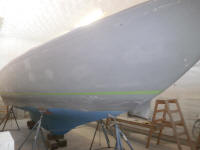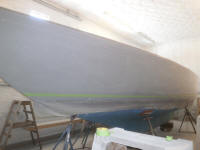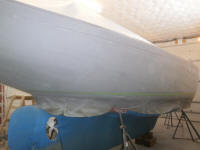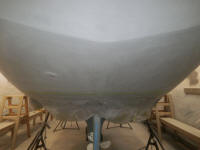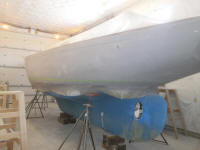 Afterwards, I masked off the area beneath the line with paper to protect the future boottop from the topsides paint.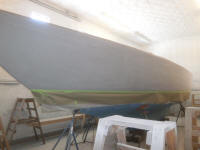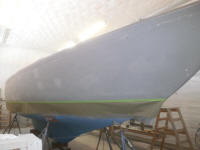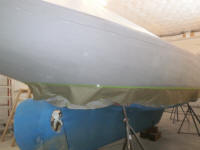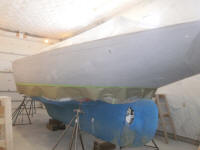 I finished up preparations with another solvent wash, and prepared staging, spray equipment, and painting supplies as needed.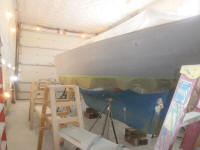 Total Time Billed on This Job Today: 5.5 Hours